4B+ TENANT MAILBOXES

TOP 4B+ RESOURCES:
4B+ Information Sheet | Jensen Mailboxes Catalog | Document Library | 4B+ EasySpec
An ideal solution for upgrading existing tenant mailboxes. STD-4B+ mailboxes meet updated USPS standards for replacing existing multi-tenant mailboxes and include customized product configurations, tenant and postal pry bars, tamper resistance and front and rear load applications. STD-4B+ is ideal for such indoor applications as student housing, offices and commercial buildings.
JENSEN's STD-4B+ USPS approved, recessed-mounted cluster box units are constructed of all aluminum extrusions and materials and designed to meet and exceed USPS standards. The STD-4B horizontal mailboxes have evolved into the improved-security units under USPS STD-4B+ which is approved for installation in new construction projects.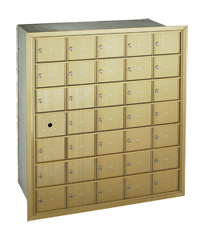 Per the USPS guidelines in the Federal Register, USPS STD-4B+ mailboxes, from October 2006 can still be used for retrofitting existing installations of STD-4B or STD-4B+ mailboxes. Major renovations may trigger requirements for USPS STD-4C. JENSEN's "4B+" units continue to provide the widest range of quality mailbox options for regular postal patrons, or private distribution applications.
Front Loading
The STD-4B+ is designed to allow easy tenant access. A continuous hinge is featured on the master door and the access only compartment door comes with a private lock. Multiple modules used in one location can be keyed alike for ease of accessibility.
Rear Loading
Compartments are easily accessible for incoming mail convenience. Various types of rear covers are available.